How to Make Your Own Phiten Tornado Braid Necklace!

Please read through the instructions before starting
Materials Needed for this example:
(2) 26" or 22" Phiten necklaces of your choice
Scissors
Needle and thread
Step 1.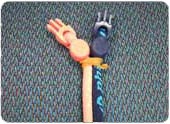 To start off, tie a rubber band around the two necklaces right below the rubber clasps, to a similar effect of the image to the left. Keep in mind that you want the male parts of the clasps at the same end together, as well as the female ends.
Step 2.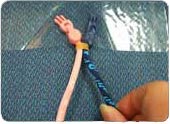 Start twisting one of the necklaces up tightly.
Step 3.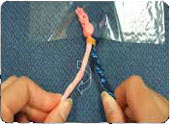 Now start twisting the other necklace in the same direction.
Step 4.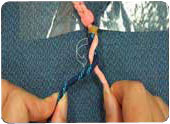 Take the necklaces, and start twisting them together in the opposite direction of the way you wound them up.
Step 5.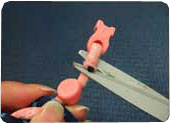 Cut the sewn together part on one of the necklaces, and remove the clasp and rubber piece.
Step 6.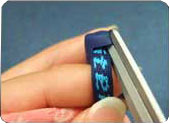 Take your scissors and cut out a little portion of the rubber clasp so you can slide the other necklace into it. (Be careful not to cut into the top of the rubber piece)
Step 7.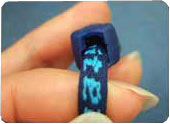 Here's what the rubber piece should look similar to after you cut it.
Step 8.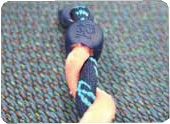 Now you can push the other necklace into where the cut was made with the scissors. Then put a little super glue between the necklaces and apply pressure on the rubber slide piece.
Step 9.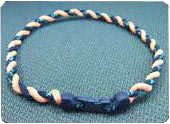 Your completed Phiten tornado should be roughly 22.5" if you started with 26" necklaces and roughly 18.5" if you started with 22" necklaces.
If you use 2 x 26" necklaces, your tornado is going to be about 22.5 inches long
If you use 2 x 22" necklaces, your tornado is going to be about 18.5 inches long
YouTube Video on Making A MLB Phiten Tornado Necklace